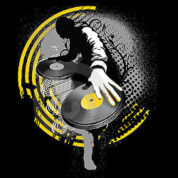 Even if you've never had a go before the DJ Academy based in Ferry Road, Edinburgh has a course to get you started. 
We run courses for those getting started and for those wanting to hone their skills and reach the next level.
Courses in Vinyl, CDs, mixing, scratching and track production are all taught as well as options for intense one-to-one training sessions to concentrate on areas you want.
With out tutors officially recognised as some of the best DJ's technically in the world (DMC World Champion) your learning from the best. Don't be fooled by DIY YouTube videos and correspondence courses, this is a hands on tutor on your shoulder experience where you get measurable improvements to your existing skills and techniques as well as learning a lot of new stuff.
Check out our course details and the pedigree of our tutors from the pages on the site but if you want some straight talking and gory details you can always stop by for a haircut at the One Barbers which fronts our teaching rooms at Ferry Road. Nicky Green our resident barber will be happy to discuss your options and fill in any details to help you along the path to your DJ career.