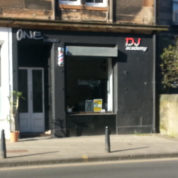 Nicky runs One Barbers which is the front shop at 152 Ferry Road. But just like Man from U.N.C.L.E., for those of you old enough to remember it, all the action happens through the back door.
Our studio area through the back is where all our DJ classes and Production courses take place.
Our studio and teaching areas have a variety of vinyl, CDJ's, mixing equipment and audio software. Classes usually take place during Wednesday evenings or Sunday afternoons depending on the course. Nicky will be bringing a wealth of DJ experience having DJ'd for 18 years and played at all major venues in Edinburgh, Glasgow and others in and around the UK. These have seen him him warm up for superstar techno DJs Dave Angel, Marco Bailey, Brian Zentz and Trevor Rockliffe at the legendary Arches in Glasgow.
Nicky will be playing a regular slot at the eagerly awaited Club Debauch opening up for a regular 3 monthly slot at the Biscuit Factory in Leith. The opening event on 3rd December has a revised line-up including Kev Fraser and Lloyd Stevenson
The Academy's tie in with this project is to supply the line-up of DJ's throughout 2017 bringing in well know acts as well as offering slots to graduates of the Academy who have proven themselves up to the task. As one of the Core Crew members of the Club Debauch project, #0003, Nicky will be looking for that talent and will be able to offer you a platform to show it.
Nicky Green achieved 3rd place in superstar DJ UK championship also ran restless at studio 24 for a number of years. His 3 deck scratch style with effects in the dance music genre is a real hit with students. Nicky has also released tunes  on q control recordings.
He along with UK Champion Ritchie Ruftone will be taking the DJ courses.