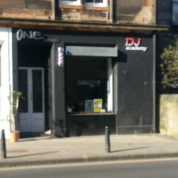 Located at 152 Ferry Road, Leith, Edinburgh, One Barbers is not just any ordinary barbers but the gateway to the 1 DJ Academy.
Our very own Nicky Green does the haircuts. Open 10:00 to 6pm Monday to Saturday.
Any enquiries you have about any of the courses at 1 DJ Academy all you have to do is use the excuse of a haircut and pump Nicky for everything he knows. The fact is he can be found there during the week and can discuss our courses, content and give you some advice.
You can also book onto one of our courses and make deposit and course payments at the Barbers. Confirmation of your booking and payment will be sent out to you by email.
If the shop is not too busy he might be able to give you a quick look round the studio and teaching areas and explain that you can pay up on any of our courses as you go along.